2023-11-09 【X-PITCH 2023】Top 100 Finalists
TINVA 官網: tinva.org/news/detail/5332
恭喜 恭喜
狂賀 狂賀
Top 100 Finalists

TINVA 會員/新創團隊
CarbonClean Energy_科淨能源
DRACO MATERIAL
Phansco_汎鍶科藝
Song Lan Light Energy
You-Chun_ 宥春
AcuSolutions 吉光智慧
BIOBUNBAN 君邦生物

​ 一起為大家加油!!
---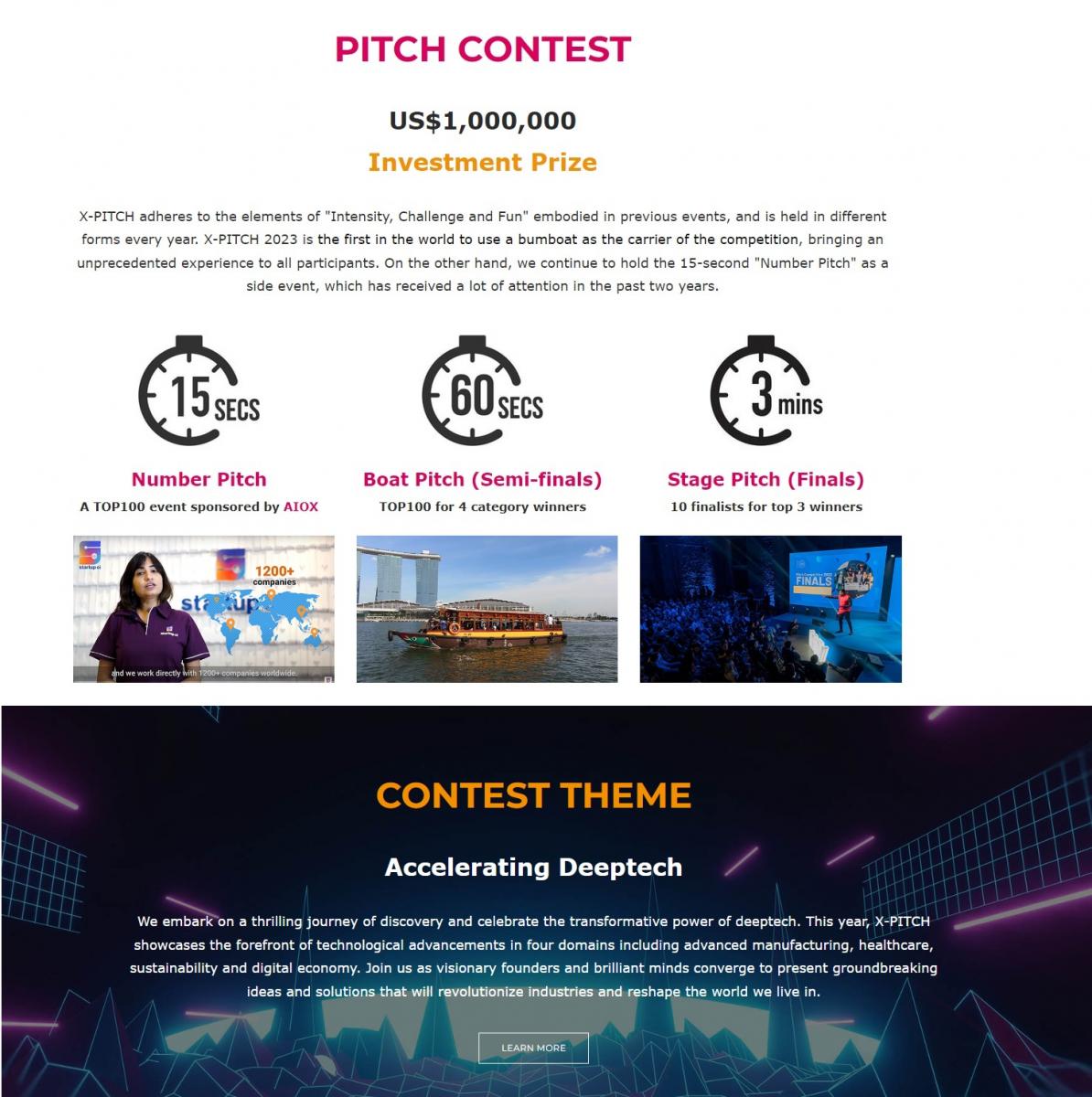 【X-PITCH 2023】Singapore to host the most challenging pitching competition in the world
◎ 消息來源: https://e27.co/x-pitch-singapore-to-host-the-most-challenging-pitching-competition-in-the-world-20230913/
X-PITCH 2023: Singapore, one of the most vibrant tech startup ecosystems in the world, will be the setting for this top pitching competition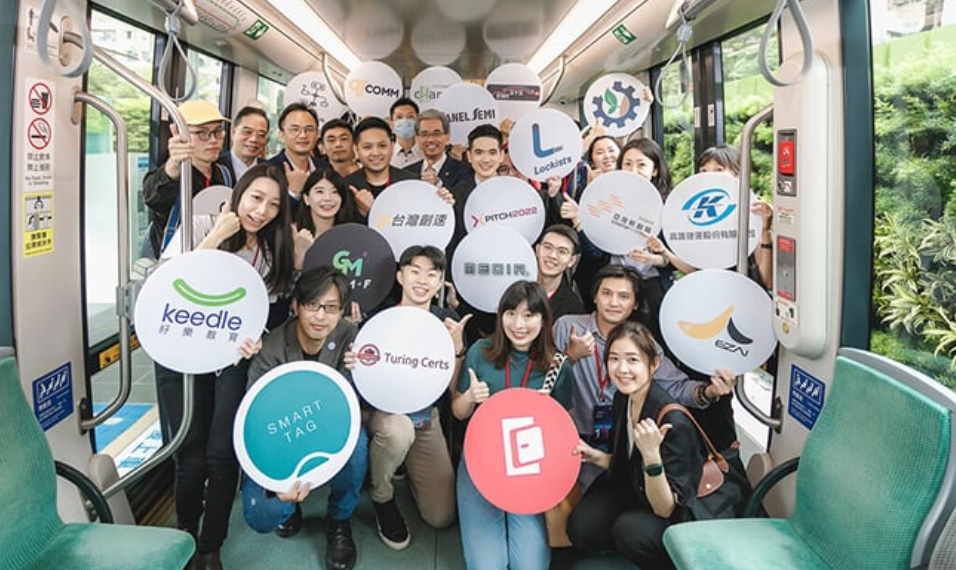 Southeast Asia's tech startup ecosystem is booming with an estimated valuation of $340 billion in 2020, and is expected to hit $1 trillion in 2025. Home to over 687 million people and a growing middle class continuously ballooning from 125 million people in 2010 to over 400 million people by 2030. As such, the region has become a prime target for venture capital firms looking for the next big thing. Today, more than 170 active venture capital firms are investing heavily in these innovative companies in Southeast Asia.
Within the region, Singapore has positioned itself as one of the top destinations for technology entrepreneurs due to its pro-business environment and access to world-class talent pools, ranked 8th in the latest global startup ecosystem ranking by the Startup Genome. The city-state boasts 220 startup accelerators and incubators that have provided essential support systems to help young founders of over 4,000 tech startups bring their visions alive through cutting-edge technologies such as artificial intelligence (AI) or blockchain solutions. Furthermore, Singapore's thriving business culture also provides plenty of opportunities for networking with peers at various events, sparking innovation and life-long partnerships. The ecosystem is valued at $128 billion including 18 unicorns.
Also read: Innovation Meets Impact: EQT's Pioneering Challenge in Asia
With its vibrant ecosystem, Singapore is going to host X-PITCH 2023, primed as one of the world's top pitching competitions. Not only does this make Singapore an ideal host country, but it also opens up a unique opportunity for the most exciting startups from across the Southeast Asian tech landscape to come together, make connections, or secure funding for their respective projects.
Introduction to X-PITCH 2023
X-PITCH is a globally renowned startup competition, known globally for its reputation as among the most challenging and rigorous tech events. It gathers exceptional startups under a decade old from across Asia and beyond, spanning seed to series B funding stages. The event has also evolved into a worldwide platform for investment and collaboration.
Moreover, X-PITCH champions "Tech For Good" initiatives, addressing global challenges like climate change and poverty through technological innovation. With a focus on "Accelerating Deeptech" in 2023, X-PITCH aims to spotlight the most adept startups in four key categories: sustainability (clean energy, cleantech, and circular economy projects), advanced manufacturing (robotics, automation, digital twins, AI, and machine learning-driven manufacturing), healthcare, and the digital economy (cybersecurity, Web3 technology, computer vision, and more).
The theme of this year's contest is "Accelerating Deeptech", highlighting the forefront of technological advancements in four domains including advanced manufacturing, healthcare, sustainability, and digital economy. Ten awards will be presented at the November 9 Grand Finale, with the top three teams receiving investments totalling at least US$1 million.
Also read: How e27 helped empower APAC communities through Meta
During the X Games for Startup, X-PITCH contestants go through the 15-second, 60-second, and 3-minute pitches onward to win awards and investments. In the past four events, the 60-second pitch has been held in very unusual and challenging venues including high-speed elevators, autonomous buses, and even the MRT in Taiwan.
This year, following the application screening process, the TOP 100 teams will be invited to join the X Journey. While the Semi-finals are held on Singapore River Cruise's bumboats, the top 10 teams advancing to the Finals will perform on the grand stage of National Gallery Singapore, competing for a US$1 million capital from X-PITCH Investment Partners awarded to the Top 3 Winners. The Number Pitch with 15-sec Number Pitch remains a valuable voluntary side event.

K. Yu, the Organizing Committee Chair of X-PITCH 2023, shared, "In just two years, we've brought together over 8,000 startups and engaged a staggering 100,000 individuals from across the globe. Our winning participants have collectively secured an impressive sum of US$38 million in funding, forging invaluable connections with investors, corporations, government bodies, and accelerators for impactful collaboration."
Apart from the staggering record of participants, X-PITCH also boasts impressive numbers in terms of results, including coverage from over 300 global media platforms, over 200 global partners, over US$2 million worth of investment prizes given away, and over 1000 investor connections, amounting to over US$38 million worth of funding raised for X-PITCH participants over the last two years.
Other perks of joining
In addition, joining X-PITCH entails a range of other incredible perks for aspiring entrepreneurs. Not only does it provide access to the best resources and markets, but it also provides an opportunity for participants to gain valuable skills and practical experience.
The TOP100 activities with X-PITCH include Asia access seminars, pitch training, workshops, corporate access, and investor matching. All these activities are designed to help participants learn from experienced experts, investors, and colleagues on how best to run their business while networking with other like-minded individuals who are looking into different industries or similar businesses. Furthermore, they get insights into the current market trends which will help them make better decisions when launching or expanding their ventures.
Benefits of hosting X-PITCH 2023 for Singapore
X-PITCH 2023 is also an exciting opportunity for Singapore to reinforce its name as a hub of innovation for startups in Asia. The event will bring together international startups, investors, and corporations from around the world, enabling all attendees to connect with the thriving Singapore startup ecosystem.
The key advantages of hosting X-PITCH 2023 for the host country include connecting international startups with local resources such as venture capital firms, technology accelerators, incubators, and other related resources; encouraging foreign investments into the country; generating tourism revenue; providing corporate connections for sponsorships that can help fund new projects or initiatives within the region; and ultimately enhancing its reputation as a regional leader when it comes to business development opportunities.
Also read: Navigating the future of marketing with AI technology at Flux Series
"We are hosting X-PITCH in Singapore for the first time. Through this platform, we hope to help startups from all over the world connect to the vibrant market of the city-state and Southeast Asia. Like previous years, the competition format is also a global first. This time, we are going to do it on bumboats!" explained K. Yu.
Through X-PITCH, Singapore can demonstrate its commitment to supporting tech startups and allow potential partners to see the country's competence and capabilities.
In short, X-PITCH provides an invaluable opportunity for young startups as well as tremendous benefits for Singapore. By bringing together some of the best minds in tech, this remarkable platform encourages collaboration between entrepreneurs and innovators, helping to create more sustainable solutions worldwide and fostering a more robust and more vibrant tech startup ecosystem for the region.
---
【Open Call】X-PITCH is open for applications_ 9/15
NOVEMBER 10 | SINGAPORE
ABOUT X-PITCH
*One of the largest annual startup contests in Asia
*Probably the most challenging pitch event in the world
*Bringing together outstanding startups from Asia and worldwide
*Promoting deeptech innovation and "Tech For Good"
*International platform for investment and cooperation

WHO SHOULD APPLY
1. Company less than 10 years old
2. Between seed and series B stages
3. Good command of English (All activities are conducted in English)
4. Deeptech startup (see definition) in one of the following categories:

◎ TINVA 官網: https://tinva.org/news/detail/5332
◎ 活動連結: https://www.xpitch.io/
【TINVA訊息活動與各項連結為"會員專屬"權益, 歡迎您加入協會成為會員!】
點選連結加入協會 :https://tinva.org/member/join
線上刷卡,即可繳交會費,非常簡便~~~
新會員"個人"身分: 入會費($,2000)+常年會費($3,000) https://tinva.org/pay/detail/13
新會員"團體"身分: 入會費($1萬)+常年會費($1.5萬) https://tinva.org/pay/detail/12
歡迎洽詢: Tammy/ tammy@tinva.org, Lillian / lillian@tinva.org/ 0911216119
2023常年會費繳費方式如下(https://tinva.org/pay),感謝您的支持~
當年未繳納當年會費, 隔年需視為 "新進會員" 入會, 除當年會費繳納外, 需再次繳納 "入會費" 。
2023年個人會員常年會費https://tinva.org/pay/detail/43
2023年團體會員常年會費https://tinva.org/pay/detail/44
X-PITCH 2023 Application:https://airtable.com/shroX3uhz9ltIQ3uR
Deadline: September 15, 2023

◎ TINVA 官網 : https://tinva.org/news/detail/5332
◎ 活動連結 : https://www.xpitch.io/


Global deeptech startups compete for $1M on the Singapore River

Do you have the guts to take this challenge?

In the X Games for Startups, contestants win awards and investments through a series of high-intensity pitch events. X-PITCH is not only a challenge, but also a great opportunity to sharply improve your pitch and take a fresh look at your business. This has been witnessed by hundreds of founders.
2023 SCHEDULE
---
Top 3 teams

win
US$1,000,000
​investment in total
X-PITCH 2023




Applications:

July 15 to September 15
TOP100 Day: November 9; Full Day (Venue TBA)
Semi-finals: November 10; Morning (Singapore River Cruise)
Finals: November 10; Afternoon (National Gallery Singapore)


Note: Date and time indicated above is GMT+8.

​​​TOP100 teams enter the Semi-finals and participate in the Number Pitch.

The 15-sec Number Pitch is a voluntary side event for TOP100 teams.

TOP10 teams advance to the Finals. Top 3 winners receive US$1 million capital in total from X-PITCH Investment Partners, subject to due diligence.

It is recommended that the TOP100 teams arrive in Singapore on November 8 and participate in the full-day event on November 9 (TOP100 Day). Activities include one-on-one investor meetings, corporate access and the Singapore Access Seminar.

The Organizer reserves the right to amend the event format and agenda.
---
WHO SHOULD APPLY
X-PITCH is for early-stage tech startups, we have discovered and accelerated many tomorrow's stars. Past contestants successfully raised millions of dollars through the event, and connected with our Global Partners including investors, corporates, government agencies, accelerators, professionals and media for collaboration. Founders from Asia and worldwide are welcome to join X-PITCH 2023, criteria are as follows:

1. Company less than 10 years old
2. Between seed and series B stages
3. Good command of English (All activities are conducted in English)
4. Deeptech startup (see definition) in
one of the following categories:
活動花絮